Branches Information
Hassamu Branch Profile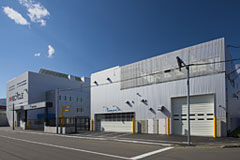 Address
2-52 Hassamu 12-13, Nishi-ku, Sapporo
Hokkaido 003-0876
Tel:011-213-7000 Fax:011-213-8444
Representative
Managing Director: Hidemasa Karasawa
Area

5,719 square meters

Main facilities

1250t Shear Machine
Waste Paper baling system
Two axis shredder for secret documents
Volume reduction machine for foamed polystyrene
Radiation sensing system
Truck scale (60t)

Natural energy use facilities

Underground heat pump facilities(road heating area: 2,430 square meters)
Photovoltaic power generation (Generation Capability: 43.32 kW)

Recycling convenience store 24 (added to this branch)

There is an unmanned collection system.
It is working 24 hours and customers can use it any time they want.
Acceptance is done inside by customer at the touch screen device and in such a way collection is done.